Digital Content Overhaul in CorelDRAW Graphics Suite X3
By Steve Bain
The applications and features described in this tutorial require CorelDRAW Graphics Suite X3 or newer to be installed.
As loyal users have come to expect, the latest release of CorelDRAW Graphics Suite comes with a substantial stockpile of digital content that you can use as you see fit. What you may not realize is that Corel has completely revamped the offering with the release of X3. The new collection isn't just a few new fonts and images added for good measure, it's a complete overhaul. Browse through these highlights and you'll see what I mean.
The digital content that comes with CorelDRAW Graphics Suite X3 is a valuable resource for a wide range of illustration and design tasks. The boxed version includes an easy-to-browse printed guide that showcases thumbnail images and character sets. The optimized and expanded digital content collection in CorelDRAW X3 now tops more than 10,000 graphic illustration and photos, over 1,000 character and symbol fonts, and an array of design templates.
Exploring the New Clipart Collection
Clipart images can be a great source of inspiration, ideas, or ready-made solutions for all kinds of creative and technical projects. The new selection has been dramatically streamlined to include images that can easily be edited and reproduced. Drawings that have been historically complex or problematic have been removed, and the newly added images have been selected for their smooth reproduction qualities. What's more, Corel has added new categories to provide useful resources for users working in embroidery, screen printing, routing, laser engraving, large format printing, print, or Web design.
A quick scan of the clipart category folders (shown below) will give you a brief glimpse at what's available. You'll find that more than 6,400 clipart images have been added to the collection, including images that Corel has licensed from specialty providers such as MR-Clipart (www.mr-clipart.com), Digital Art Solutions (www.digitalartsolutions.com), and Clipart deSIGN (www.clipart-design.com).

The following practical examples demonstrate how clipart images can be easily adapted or edited for special-purpose design projects. In the first example (shown below), a flame outline graphic from the Flames collection was added to a vehicle graphic from the Transportation > Cars collection to create an example of a vinyl application.
The award graphic taken from the Sports templates collection (shown below) demonstrates an example that an engravers might use in the creation of engraved award design.

These shirt and sweater designs from the Templates > Clothing collection can be easily adapted as silk-screening prototypes for the creation of team jerseys. Each graphic can be quickly edited to showcase any color scheme or stencil pattern.
If you use clipart from past versions of CorelDRAW Graphics Suite, you'll be pleased to know that Corel has adopted a new naming convention that makes it easier to recognize the images specific to version X3. Insert disc 2 into your drive and click the Explore the CD button to browse the available images to view thumbnail and file names (as shown below) that include an X3 prefix.

A close examination of the clipart images will give you better insight into the attention to detail Corel has invested in the revised collection. You won't find images comprised of impossibly complex shapes that include node clusters in the thousands or graphic design elements prepared in unusable color schemes or non-reproducible color values. Virtually all objects are comprised of a minimal number of nodes.
Clipart images have been prepared in print-ready colors using either printable CMYK color values or fixed-palette spot ink schemes. The typical spot color example shown below from the Sports category is prepared using a four color Pantone® ink scheme in various tints, making it ready to use as is.

Of course, CorelDRAW Graphics Suite X3 content still includes a collection of photorealistic images. Along with the specifically prepared images you'll find detailed illustrations in a variety of categories. The example below is typical of the inherent illustration quality available.
Newly Added Fonts
Corel is well known for shipping a huge collection of digital typefaces with each version of CorelDRAW Graphics Suite, and this latest release is no exception. Now included with the more than 1,000 OpenType/TrueType fonts are 35 Windows® Glyph List 4 (WGL4) fonts. Glyph list fonts are specifically designed for maximum compatibility between recent software applications and operating system platforms across multiple languages.
Glyph list fonts fully support the Pan-European character set, enabling you to guarantee that the characters in your CorelDRAW X3 document will display correctly when opened by international users working in Western, Central European, Greek, Cyrillic, and Turkish versions of CorelDRAW X3. You can view the entire character set of the WGL4 (or any other) font using the Windows Font Viewer window (shown below) opened by double-clicking a font file.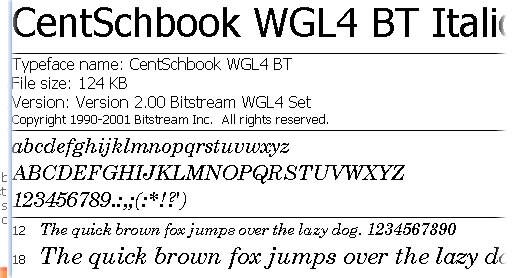 You can install any font using the Fonts utility (choose Start > Control Panel > Fonts) by choosing File > Install New Font and browsing to disc 3. For fonts, browse to [drive letter]:\fonts, choose a font folder, and select the alphabetically listed folder containing the font by name. For symbols, browse to [drive letter]:\symbols and choose a font type.
Finding Images Fast
With all of this new content, I'd be remiss if I didn't tell you how to access it. If you've never used the CorelDRAW Graphics Suite X3 digital content resources before, it may help to know how to find something specific. You could always thumb the printed digital content guide, but the best approach is often using a Scrapbook search. All of the clipart and photo images included with CorelDRAW X3 have been indexed by subject into a keyword database. This means you can instantly locate any image by its subject matter. Follow these steps to perform a quick search:
With either CorelDRAW X3 or Corel PHOTO-PAINT X3, open the Scrapbook docker (shown below) by choosing Window > Dockers > Scrapbook > Search.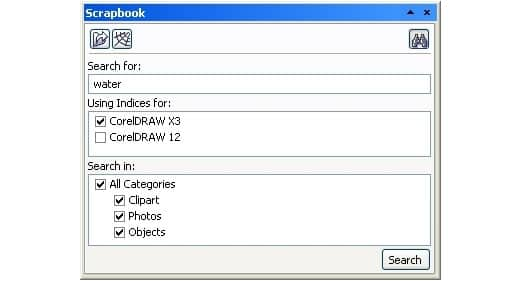 Type a keyword search term in the Search for box. If you have multiple versions of CorelDRAW installed, choose a version for your search in the Using Indices for list.


To search specifically for a piece of clipart, a photo, or a floating object image, choose an option from the Search in list. Click the Search button in the bottom-right of the docker window.


By default, search results are displayed in the docker window as thumbnail images (shown below). Navigate multi-page results using the forward and backward buttons, or perform a new search by using the New Search button.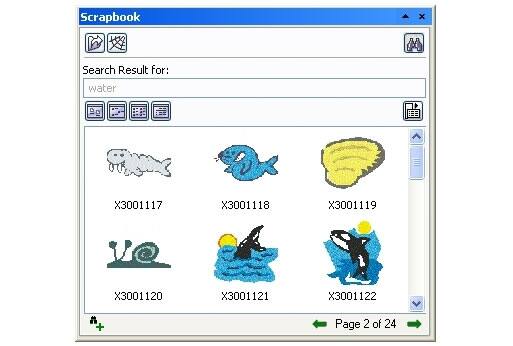 If you don't currently have a digital content disc in your CD drive, the thumbnails that appear will only indicate the image file name and the disc number on which the image is located.


To import a selected clipart image, drag the thumbnail directly into your CorelDRAW document or Corel PHOTO-PAINT document window.
Clipart images are saved in native CorelDRAW (CDR) format for easy importing into CorelDRAW as is, or for editing to suit a specific purpose. Once a clipart image has been imported into CorelDRAW, you can ungroup it (Ctrl+U) and work with it as you would any other arrangement of objects. Photos and floating objects are saved in native Corel PHOTO-PAINT (CPT) format.
Accessing Clipart Freebies
If you're connected to the Internet while using CorelDRAW Graphics Suite X3, the Scrapbook will provide access to an ever-expanding collection of free online clipart and photos. These images are provided periodically by Corel as "freebies." To view and browse the available images, follow these steps:
With your Scrapbook open, click the Content on the Web button located at the top of the docker window (shown below). Images are organized into Clipart and Photo folders.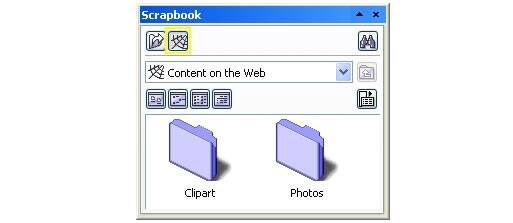 Open a folder by double-clicking to view the sub folder categories, and double-click again to open a sub folder to view its contents. The Scrapbook docker will display the contents of the folder.


To import an image, just drag it into an open document window. You can also download images and save the original files by right-clicking the image you wish to download and choosing Download from the popup menu (shown below).
Use the browse options in the Download As window to specify a file name and location in which to save the file.

Photos and Photo Objects
Photos continue to be with Like previous versions CorelDRAW Graphics Suite X3 continues to provide a collection of 1000 photos, available either as floating objects or in the usual rectangular format. Floating objects are saved in Corel PHOTO-PAINT® X3 (CPT) format and come in a variety of pixel sizes organized into 27 categories. Floating objects (such as those shown below) can be imported directly into CorelDRAW X3 or used to build composites in Corel PHOTO-PAINT X3.

The digital photos in the collection are typically sized at 728 x 512 pixels at a resolution of 72 dpi using a 24-bit color depth and stored using an up-to-date JPEG 2000 file format. Photo categories cover a wide range of topics and subject matter and the images themselves are well composed for easy editing.

One of the reasons CorelDRAW Graphics Suite X3 has become such an industry favorite is Corel's commitment to provide such a well rounded collection of creative resources. With this revived collection, you're certain to find a wealth of digital resources you can put to good use.
Steve Bain is an award-winning illustrator and designer, and an author of nearly a dozen books, including CorelDRAW®: The Official Guide.