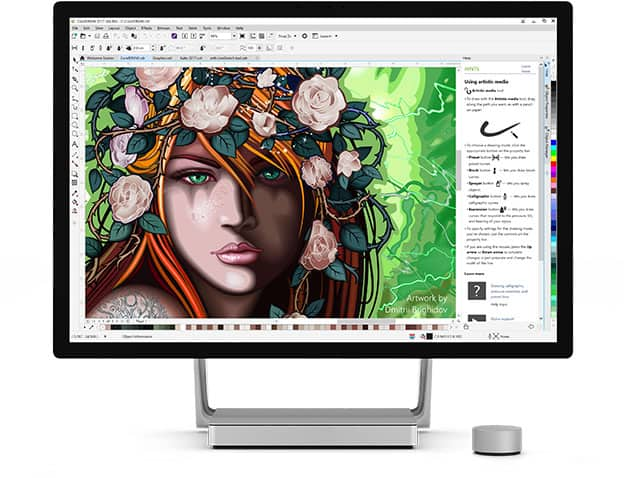 CorelDRAW & Microsoft Surface
Expand the Pen & Touch capabilities of CorelDRAW Graphics Suite 2017 and leverage your non-dominant hand with the contextual toolbox built specifically for the on-screen experience of the Microsoft Surface Dial.
Get CorelDRAW Trial
Get Surface Dial Add-In
---
Ready to go beyond the 15-Day trial?
The #1 professional graphics suite made exclusively for Windows
CorelDRAW Graphics Suite 2017 was designed from the ground up to leverage the full power of Pen & Touch, based Microsoft Surface devices, enabling graphic artists to transform their ideas into impactful designs. With enhanced support for multi-touch and a natural pan & zoom functionality, a new tablet-optimized workspace and expanded pen support. With a ground-breaking new Artificial Intelligence based tool called LiveSketch™, CorelDRAW users can design on a computer as naturally as with pen and paper!
With the Microsoft Surface Dial add-in for CorelDRAW Graphics Suite 2017.1, designers can now leverage their non-dominant hand throughout the creative process. Simply place the Surface Dial on the Surface Studio, or on the new Surface Pro screen, and a contextual toolbox will appear within immediate reach of the pen or your fingers. Then, select the tool to use, and as soon as you remove the Surface Dial from the screen, it disappears and the whole canvas is available for your design.
Download and install instructions
The Microsoft Surface Dial add-in is a free download for any user of CorelDRAW Graphics Suite 2017 with Update 1 on Windows 10 64-bit Creators Update or later.
Make sure your Microsoft Surface computer has the latest version of Windows 10, 64-bit installed (Creators Update version 1703 or later)
If you haven't purchased CorelDRAW Graphics Suite 2017, download and install the 15-day trial version for free
Make sure you are on the latest version of CorelDRAW Graphics Suite 2017 (version 19.1.0.419) by launching CorelDRAW and selecting "Updates…" from the Help menu
Download and install the Surface Dial add-in for CorelDRAW Graphics Suite 2017 from the link below
Buy, upgrade or subscribe to CorelDRAW Graphics Suite 2017 today