CUSTOMER




Robin Bös

PROFESSION




Car wrap professional

LOCATION




Düsseldorf, Germany

PRODUCT




CorelDRAW Graphics Suite
A new look for every car — car wrap professional Robin Bös doesn't just wrap cars, he brings ideas to life. At the beginning of every project, there is a vision. In order for this to take shape, Robin develops it in collaboration with the customer, translating it into a concept and creating it digitally. This way, he creates a unique design in CorelDRAW, from the initial sketch to the finished layout.
To make sure everything will fit exactly, Robin Bös works at a 1:1 scale in CorelDRAW. "I am easily able to lay out even trucks without cumbersome calculations. It is only if I am dealing with lengths of over 45 meters that even this software reaches its limits," says the enterprising advertising engineer. He always bases his layouts on vehicle outlines of the CC Vision collection.
"For a traditional delivery van for example, there are easily 30 different vehicle variations. Long wheelbase, short wheelbase, special equipment, windows, no windows — CC Vision is up-to-date in this regard, and the registration certificate allows me to find a suitable outline for the layout. This prevents future surprises with the lettering, once the vehicle actually stands in the shop."
CorelDRAW provides perfect support
Based on many good and crazy ideas, Robin Bös creates the first draft – supported by the creative tools of CorelDRAW, such as the Pointillizer. He can send the customer a preliminary version of the design at any time — directly with the layout via the integrated cloud solution, without having to export to PDF and thus avoiding email chaos.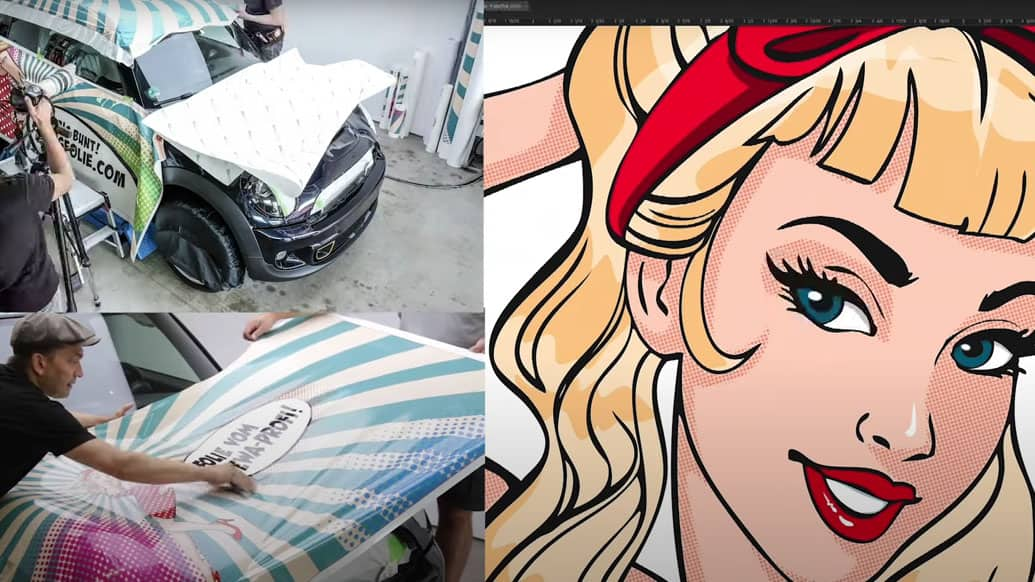 All stakeholders can add their comments directly to the layout, and Robin is able to see them in real time. This accelerates the approval processes and minimizes errors due to overlooked corrections. "Of course, I have to educate the customers to provide change requests or text corrections through this mean, and not by telephone or email. But, all things considered, it helps all of us — it really is faster, and, above all, it eliminates contradictory corrections made by the customer, as everyone can see all comments."
Prior to printing, the data must be processed. To do this, Robin separates the design into individual parts, accurately splitting everything using the Knife tool. As one of Robin Bös favorite tools, it not only works with utmost precision, but also saves time and effort in real life with its automatic cutting function. Exporting to PDF in the desired standard? It is a breeze with CorelDRAW. The Preflight check ensures production reliability, and large format print output is no problem. With a suitable plug-in, the layout of vinyl film decals for classic "adhesive lettering" on cutting plotters also is done directly in CorelDRAW and output without having to export.
As for the films, the car wrap professional relies exclusively on tested and approved material — this is important to avoid damage to the car paint and to ensure that the wrap is not only durable, but can also easily be removed, if necessary. At the General Wrapping Association (GEWA), of which Robin is a founding member, there is a vivid exchange of materials, processing and application. "Unfortunately, there are many black sheep who simply wrap the cars. As car wrapper is not a protected profession, anyone can offer this service. With GEWA, we want to set a standard customers can rely on. For members of the association, it goes without saying that trainings, workshops and sound expert information are an important aspect."
Surgical skills are required
A lot of work is required before a car is ready to be wrapped, as it takes a car that is absolutely free of dirt for a wrapping to succeed. Once this is done, the work itself can begin. The vehicle wrap is applied piece by piece with special digitally printed car wrapping film. A steady hand and almost surgical skills are required because cutting with a scalpel requires a great deal of dexterity.
Only practice and experience can ensure that the film is cut without damaging the paint underneath. Pressure and angle make all the difference; what may look simple at first glance is a result of years of experience and training. Robin Bös can rely on over 25 years of expertise in this regard. This is particularly beneficial regarding all the "tricky areas" of a vehicle — the more modern the model, the more sensors there are, more or less visible, installed all around the car. These must not be taped over under any circumstances.
"Here too, GEWA provides a comprehensive knowledge base where we share information — because we must always have an eye on vehicle safety when wrapping a car. Safety is the priority."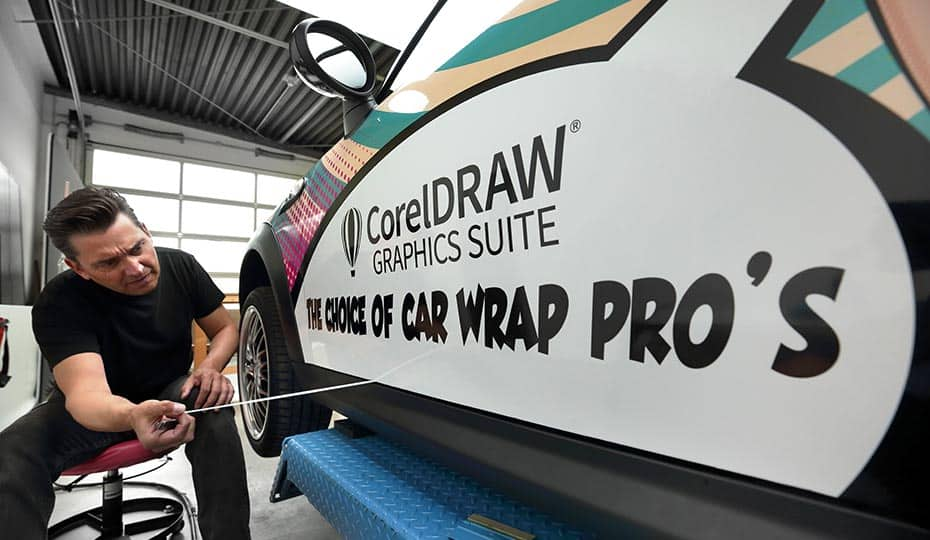 And yes, it needs time. A complete car wrap takes at least two to three days in order to achieve an optimum result.
Robin Bös also transforms supposedly simple projects into small masterworks in his car wrapping shop in Düsseldorf. He is not afraid of adhesive letterings; again and again, he finds creative ways to realize classic address letterings for a painter, baker or floor tiler. "Simply changing its position or a small design element can make a huge difference," says the dedicated car wrapper.
Whether car wrapping or classic lettering, vehicle wrapping involves so much more than just applying a colorful adhesive film to the car body: from the initial idea to designing it in CorelDRAW to the completed artwork, there are not only thousands of steps and several days of work, but above all expertise and dexterity that ensure a perfect result. With Robin Bös in charge, the result is usually anything but normal and a highlight on the street.
Photo copyright: Matthias Käser Fotografie