Architecture, Engineering & Construction (AEC)
Worldwide, CorelDRAW® Technical Suite is used by architects, landscape designers and civil engineers to create engineering plans, designs and presentations.
In addition to standard planning diagrams, architects and planners also produce site, floor and space plans, as well as elevation views using data from various sources that include on-site measurements, plan requirements, standard materials and fittings and client specifications.
In the final design, these diagrams and plan types, which are required at different phases (planning permissions, marketing materials) and by various stakeholders (committees, media), take on the form of projections and 3D renderings that have gradually replaced traditional physical models.
Using CorelDRAW Technical Suite, a perfect complement to AutoCAD, CorelCAD™, VectorWorks, Microstation and other CAD or 3D design applications like SketchUp, technical illustrators can easily turn a CAD plan into a presentation or a drafted design into a precise technical illustration that can serve as an execution plan. CorelDRAW Technical Suite supports the workflows of architects, landscape architects and engineers.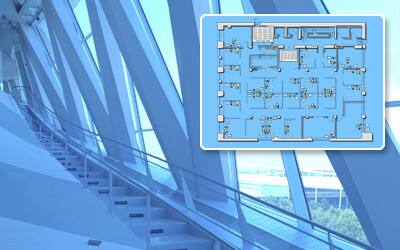 ---
Visualizing engineering data and architectural plans: an end-to-end workflow
Access and repurpose technical design assets
Create compelling visualizations
Publish to all media
---
Access and repurpose technical design assets
Repurpose content for non-technical audience
Landscape architects often work from a CAD plan designed by architects. Architects and engineers rely on CAD for construction plans. Presenting the work to a non-technical audience means repurposing that content with a different approach. When opening an AutoCAD .DWG or .DXF file (created in any AutoCAD version up to 2017), layers are preserved, as well as CAD specific elements, such as area and hatch fills, and dimension shapes. Included in CorelDRAW Technical Suite, Corel DESIGNER makes it easy to identify all the drawing elements that are useful for the design of the external facilities and to delete or omit all the elements in the drawing that are not required (such as interior design, dividing walls, piping system, etc.). For presenting CAD-sourced information to non-technical project stakeholders, these steps of "turning off" redundant or confusing layers of the model are important when producing clear and understandable visualizations.
CorelDRAW Technical Suite supports import for 3D .DWG, allowing 3D models to be reused for presentations. With the integrated Lattice3D Studio Corel Edition you can easily create specific views or even cross-sections from 3D designs. File format compatibility in CorelDRAW Technical Suite also extends to support for a wide variety of technical communication assets and file formats, including DOCX, XLS, PSD, AI, PDF (including editing), TIFF and Camera RAW.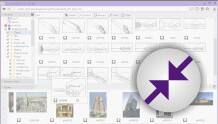 Streamline the technical illustration workflow
CorelDRAW Technical Suite makes it easy for you to define perspective and create isometric views in your 3D designs. Output high-quality illustrations with support for thick/thin lines to Corel DESIGNER for further editing or send photorealistic renderings of a 3D model view to Corel PHOTO-PAINT® for further retouching.
No matter what graphical assets you need to access, CONNECT™ is available to help you quickly find them on your computer, network or external storage device, or online sources. This full-screen browser, available as a docker within Corel DESIGNER, CorelDRAW and Corel PHOTO-PAINT, lets you organize content by type or project in shared trays for maximum efficiency.
---
Create compelling visualizations
Symbols for efficient visualization of repetitive elements
With access to more than 80 symbol libraries, architects and engineers can use industry-standard symbols, but also create their own custom symbols and libraries for commonly-used elements. With a few clicks, you can change layouts without having to edit or even select each individual element by editing the symbol definitions only. A newly revised styles engine offers an Object Styles docker that simplifies the creation, application, and management of styles for symbols. Take advantage of Style Sets to apply consistent formatting across multiple objects, produce iterative versions, and implement formatting with speed and consistency.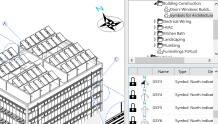 Labeling designs with callouts
In a few quick clicks, Corel DESIGNER's callout tools create explanatory labels for design presentations to builders, invitations to tender, or work orders for construction firms. To highlight or distinguish the callouts from the plan, halos can be added to the leader lines and callout text automatically. Likewise, you can automatically add object data (metadata), such as plant names or material types, to the callouts. Using the automatic increment feature, you can benefit from automatic renumbering, when elements in your drawing change and your callouts need to be adjusted accordingly.
With the Object Styles docker in Corel DESIGNER, you can control halos as a preset style, making it easy to reuse them throughout complex projects. Changes to the appearance of halos, such the color, width or transparency, will be applied to all objects of the same style at one time.
Enhance photos and 3D renderings for professional presentations
For presentation purposes, 3D images from CAD models are increasingly used in architectural designs, for instance when a design needs to incorporate the photorealism of a particular illustration. These images can be efficiently repurposed in an image-editing program, eliminating the need to create every detail in 3D. Using the new Smart Carver™ tool, clip mask feature and the Image Adjustment Lab, you can perform complex cropping and editing tasks in Corel PHOTO-PAINT. A wide range of image effects delivers unique presentation graphics—an important competitive advantage.
Creative illustration tools, including CorelDRAW
Expanding the possibilities of technical illustration, CorelDRAW Technical Suite offers a wide range of premier graphics features that can be used to create presentation materials. For instance, texture fills and vector effects, such as shadows and transparencies, help to quickly convert a technical drawing into a high-quality graphic presentation. Also, the suite includes the complete CorelDRAW Graphics Suite, adding powerful tools for creative illustration and page layout projects.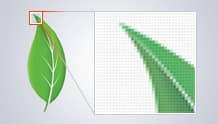 ---
Publish to all media
Multiple export options for easy sharing
You can publish technical drawings to 3D PDF from Corel DESIGNER, giving you the power to create documents that combine text, vector graphics, images, and embedded 3D models. Using a PDF reader that supports 3D PDF viewing, such as Adobe Reader, the end user can interact with the 3D model, so they can intuitively rotate, move, and size it.
To ensure perfect printing results, this suite also integrates color management and advanced preflight capabilities. Multiple export options—including web formats (PDF, HTML and others), encapsulated PostScript (EPS), CDR, AI, TIFF, GIF and JPEG—ensure that you can easily share and reuse illustrations through various media. Meanwhile, using the integrated collaboration tool, ConceptShare™, teams can share and review information across different working groups in a project.
Enhanced web publishing
Online delivery of technical content is increasingly important and CorelDRAW Technical Suite continues to incorporate new features to support web publishing. The Export for Web dialog box offers a single access point for common export controls and you can use this dialog to compare the results of various filter setting before output.