Energy, Oil & Gas
In energy and power generation industries, CorelDRAW® Technical Suite is a powerhouse that delivers optimized technical illustrations for plant engineering and construction, as well as control systems. In these industries, systems engineers spend a lot of time creating and modifying various elements (such as supply systems, construction and other design plans), a task that usually requires them to incorporate basic information from documents and diagrams designed by other departments. With its strong support for accessing and working with a wide range of file types, CorelDRAW Technical Suite brings a new level of efficiency to your workflow.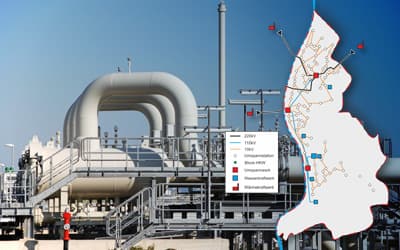 Simplified sharing and content organization
Some of the diagrams you create are based on earlier designs, while others are drawn from scratch. Regardless of origin, all will use a repeated range of elements and symbols, sometimes linked to tables. To simplify information sharing and enable close collaboration between colleagues, CorelDRAW Technical Suite supports a complete range of industry-standard file formats, including CAD and popular image formats. It also provides access to advanced and specialized tools for creating line layouts and schematic drawings.
No matter what assets you need to access, CONNECT™ is available to help you quickly find them on your computer, network or external storage device, or online sources. This full-screen browser is also available as a docker within the authoring applications Corel DESIGNER, CorelDRAW and Corel PHOTO-PAINT® and will allow you to organize content by type or project in shared trays for maximum efficiency.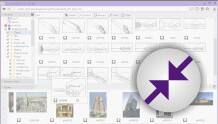 Support for industry standards
CorelDRAW Technical Suite offers market-leading file format support, making it possible to import diagrams from other applications, such as Microsoft Visio, and work with formats, such as JPEG 2000 and AutoCAD .DWG and .DXF. Create, share and deliver standardized technical documentation with support for a wide variety of technical communication assets and file formats, such as DOCX, XLS, bitmap formats and PDF (including editing). Bitmap-to-vector conversion tool PowerTRACE™ is also included in the suite, for integrating legacy blueprints (i.e. schematics) into your digital workflow.
You can also work with the latest 3D CAD file formats, including PTC Creo, SolidWorks, NX and more, with XVL Studio 3D CAD Corel Edition (available as an add-on to CorelDRAW Technical Suite.
Learn more about leveraging 3D CAD data for technical illustration
Using layers for a structured representation of information
Diagrams are often used for different purposes. For example, a structured representation with layers can be used for different diagrams and information transfers. Included in the suite, Corel DESIGNER lets you easily reuse the same drawings without additional work. For marketing materials, you can conceal parts of the drawing with technical information using layers. The structured setup of drawings enables efficient editing by modifying selective parts only, and the ability to lock whole layers from accidentally being modified or deleted.
Use symbols for repeated elements and components
The extensive symbols library is perfect for working with complex designs containing repeated elements. With the Symbol Manager, you can share your own custom-made symbols. Whenever modified or updated, changes are dynamically reflected in any design that these symbols are used in, saving you time and effort. The newly revised styles engine offers an Object Styles docker that simplifies the creation, application, and management of styles for symbols. Take advantage of Style Sets to apply consistent formatting across multiple objects, produce iterative versions, and implement formatting with speed and consistency.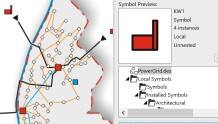 Automatic connector lines and halos on curves
The connector lines in Corel DESIGNER automatically link objects at the connector or line ends. These links are maintained even when the linked components (nodes, stations) are modified. When drawing components are changed, the run of the lines are also updated without the need for manual input. Also, the connector line paths automatically adjust to avoid other objects. This makes it easy to create new diagrams or convert existing drawing objects to connectors.
In addition, the Halos on Curves tool makes connector lines more easily identified, adding precision and clarity to diagrams. With the Object Styles docker in Corel DESIGNER, you can control halos as a preset style, making it easy to reuse them throughout complex projects. Changes to the appearance of halos, such the color, width or transparency, will be applied to all objects of the same style at one time.
Precision illustration tools and high performance
To a technical illustrator, precision and clarity are everything. Approximation is not an option as all objects must be perfectly aligned and clearly understandable. With your hectic schedule, you cannot afford to double-check object positioning by zooming in and out. Geared for precision, CorelDRAW Technical Suite delivers gravity snapping to precise coordinates, alignment guides and Object Coordinate drawing—features that help you draw and position objects accurately the first time.
CorelDRAW Technical Suite also features multi-core processing and native 64-bit support for Windows 10, Windows 8.1 and Windows 7, so you can quickly process larger files and images and enjoy faster processing times when running several applications simultaneously.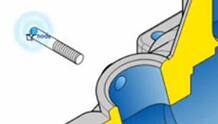 Compatible with multiple formats
CorelDRAW Technical Suite supports PDF output for online, print and archiving as ISO standard PDF/A. Enhanced industry standards compliance means you can deliver standardized technical documentation in leading formats, including WebCGM 2.x and SVG. The suite supports more than 100 standard import and export filters, including TIFF, JPG, WMF/EMF, AI, PSD, EPS and more. You can also output diagrams and engineering documentation to Microsoft Office with optimized output file support and settings for embedding graphics in Microsoft Word, Excel and PowerPoint.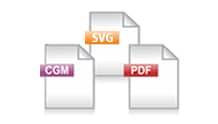 Enhanced online publishing
Online delivery of technical content is increasingly important and CorelDRAW Technical Suite continues to develop ways to support online publishing for any device. The Export for Web dialog box in Corel DESIGNER offers a single access point for common export controls and you can use this dialog to compare the results of various filter settings before outputting illustrations for web pages.