Photo Editing
---
"I use Corel PHOTO-PAINT and CorelDRAW every day for all my digital work, including illustrations, graphic design and layout for book covers, brochures, vector logos, T-shirt prints and, of course, image editing."
–Stefan Lindblad, CorelDRAW Master
Experience the synergy of image editing and design
As an artist, you know the importance of having crisp and vibrant photos for your designs. CorelDRAW® Graphics Suite is an impressive photo-editing software that delivers everything you need to perform detailed retouching, add versatile enhancements and make selective edits.
One of the powerful tools within the suite is Corel PHOTO-PAINT®, an advanced photo-editing application that provides realistic special effects, photo painting and retouching. In addition, PHOTO-PAINT offers bitmap creation, digital painting, RAW image editing and streamlined web exporting capabilities.
Enjoy more image-editing capabilities
With new and enhanced features within the PHOTO-PAINT application, you can satisfy your photo-editing needs with ease and creativity. See what's new in PHOTO-PAINT:
Windows 10, multi-monitor, 4K and Real-Time Stylus support
Take advantage of the expanded support and work quickly and efficiently.
Startup tours
Get comfortable quickly with three tours illustrating different photo-editing workflows.
Workspace customization options
Be productive immediately with a workspace that matches your workflow needs.
Healing Clone tool
Improve your favorite photos with powerful new tools to correct and edit in a variety of ways.
Explore the many ways to manipulate images with powerful photo-editing tools
In addition to a robust selection of graphic design features, CorelDRAW also includes specific photo-editing tools to achieve exacting results. Take a look:
Smart Carver tool
A much-needed photo-editing tool to quickly and easily slice or eliminate unwanted areas from a photo. Plus, it will automatically adjust the photo's aspect ratio.
Create clip mask
Adjust the properties of a group of objects by applying a clip mask on the group without modifying the individual objects within it. Image editing made simple!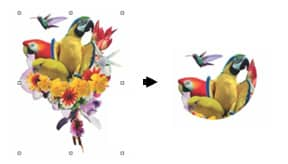 Photo effect and adjustment lab
Quickly correct common color balance and tone problems from a single dialog box. Incorporate one of many popular photo effects, including Vibrance, Grayscale or Photo Filter, to enhance your photos in a variety of ways.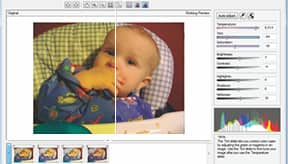 Tone Curve adjustments
Adjust your images with more precision with an integrated histogram that provides real-time feedback as you make adjustments. The Eyedropper lets you pinpoint specific color locations on the tone curve of your image. You can also select, add, or delete nodes along the tone curve.
Pass Through Merge Mode
A perfect way to gain more control of a lens or effect, as changes can now be applied to all objects, including those layered below a group.
Take your photo-editing techniques to the next level with CorelDRAW Graphics Suite.