Corel PHOTO-PAINT 2017
Download the FREE trial of
CorelDRAW Graphics Suite 2017
Image editor
Powerful RAW image editing
Streamlined web exporting
New tilt, bearing and rotation effects
Professional photo retouching and enhancement
Advanced bitmap creation and digital painting
Corel PHOTO-PAINT 2017 is included in CorelDRAW Graphics Suite 2017
---
Advanced image editor
Turn photos into stunning images your audience won't soon forget with advanced photo-editing features in Corel® PHOTO-PAINT® 2017. Designed to complement CorelDRAW, this application offers professional editing tools and support for the latest PSD files, plus extensive RAW file support for over 300 types of cameras.
Supported cameras (PDF)
Why I use Corel PHOTO-PAINT
by Stefan Lindblad
"I use Corel PHOTO-PAINT and CorelDRAW every day for all of my digital work, including illustrations, graphic design and layout for book covers, brochures, vector logos, T-shirt prints and, of course, image editing. Sometimes, I use just one program at a time, other times I use both programs together, and sometimes I use it in combination with Corel PAINTER."
What I like about Corel PHOTO-PAINT

"I really like how easy it is to work with various textures, especially the Edit Fill tool dialog. Plus, being able to use one tool dialog and having full control over all image resources, as well as customizing fills for both my local resources and online.
The potential of the Edit Fill tool, for any users, is just waiting to be discovered The Liquid tools in Corel PHOTO-PAINT are also great to have, they're perfect for artistically changing and enhancing photos and designs."
What I like about Corel PHOTO-PAINT 2017

"I certainly like the new Prep & Stretch Docker. It is so much easier and convenient to create image files, make them ready for a print company to output wrap around canvases or stretch them on a frame.
Because I am so visually oriented in my own work, I really appreciate and enjoy working with the brand new set of icons, for tools and effects for my illustrations and designs. It really feels new and fresh. They are crisp and clear looking. The X8 interface was already great , so the new icons just made it step up another level. I really am a designer geek in this sense.
And I have to say, that with the brand new addition of the Healing Clone tool, Correcting Perspective distortions feature, it adds great tools to an already great image-editing and retouching program. Also, the enhanced Drop Shadow tool, in both Corel PHOTO-PAINT and CorelDRAW, adds an even more realistic feeling with the new Gaussian Blur feathering. Simply put—it's great!"
About Stefan
Stefan Lindblad works full time as a self-employed illustrator, graphic designer and artist for a wide variety of clients both in Sweden and internationally. Visit www.stefanlindblad.com to learn more about Stefan and see his work.
---
What's new and enhanced in Corel PHOTO-PAINT 2017
Pen tilt, bearing and rotation
Stylus support has been enhanced in Corel PHOTO-PAINT 2017. Take advantage of stylus pressure, bearing, tilt, and rotation with the touch-up tools, the Eraser tool, the Paint tool, and other brush tools. In addition, you can pump up rotation, flatness and elongation settings to get an even greater range of artistic possibilities.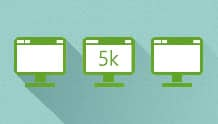 Windows 10, multi-monitor, 5K and Real-Time Stylus support
Take advantage of the expanded support for Windows 10, in addition to the existing 8.1 and 7, plus new multi-monitor viewing and 4K displays support. Work quickly and efficiently with the added control from the Windows Real-Time Stylus pen-compatible tablets, such as the Microsoft Surface, in addition to the Wacom tablet and devices.

Startup tours
In Corel PHOTO-PAINT 2017, there are three tours that walk the user through different photo-editing workflows. This series of interactive tutorials reduces the learning curve so you can get up and running faster than ever before.
Workspace customization options
Be productive immediately with a workspace that matches your workflow needs. Simply adapt your design space by changing the appearance of your commonly used elements: alter the desktop and window border colors, customize the icons and text size and open desktop windows within a floating window. Work your way!
Healing Clone tool
Improve your favorite photos with powerful new tools to correct and edit in a variety of ways. Try the new Healing Clone tool to remove imperfections by blending them with surrounding colors and textures.
Straighten Image dialog box
Correct perspective distortions in photos that have straight lines and flat surfaces such as architectural photos and photos of buildings.
Gaussian Blur lens
Explore the Gaussian Blur lens to adjust the degree to which the drop shadow feathers at its edges so you can control the perceived distance and size of objects against the background and other elements.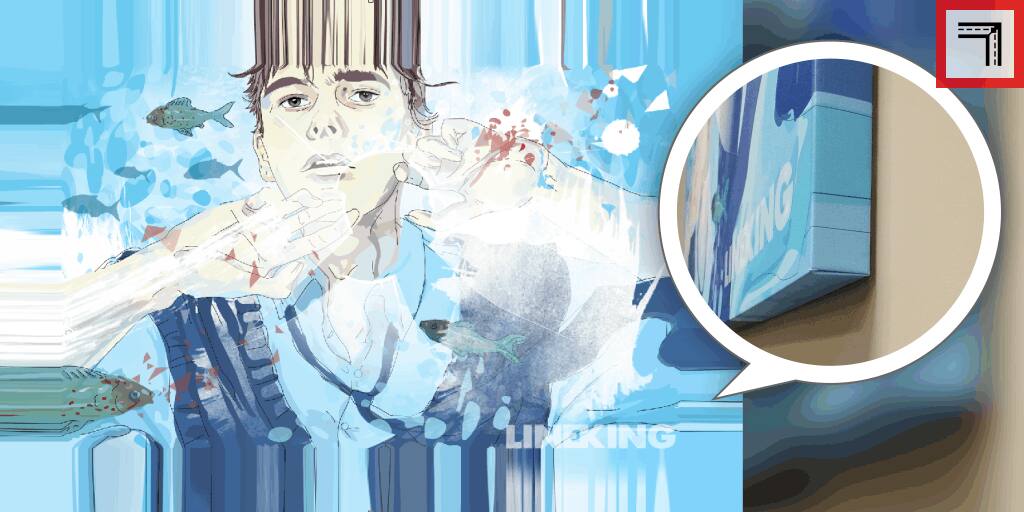 Prep and Stretch docker
One of the best ways to show off a great photo is to print it on canvas. With the Prep and Stretch docker in Corel PHOTO-PAINT 2017, you can prepare your photos and images for canvas printing in three easy steps. By resizing, fine-tuning, and stretching the image, you can achieve the perfect composition for your wall art.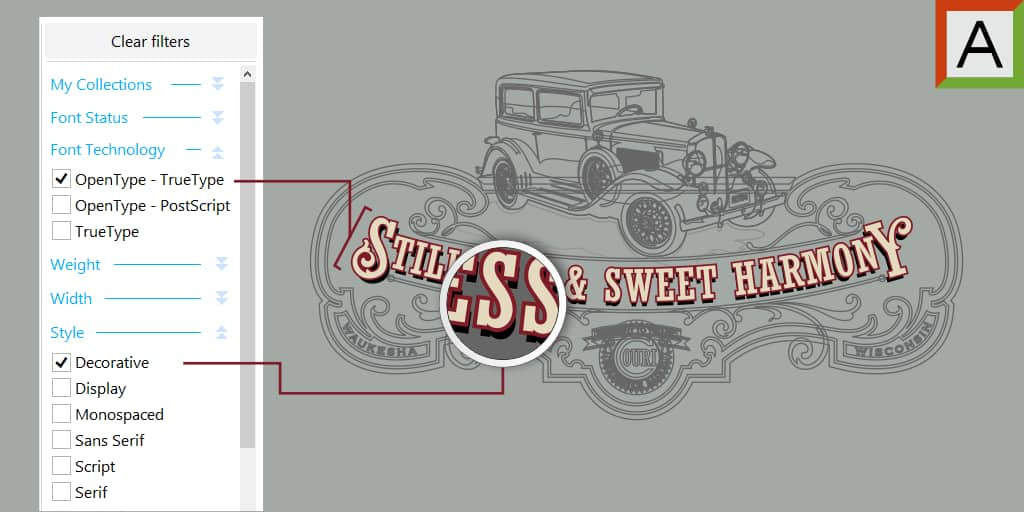 Font list
Working with fonts is easier than ever. The appearance of font names, including the names of small fonts, is now clearer in the Font list box. Fonts are now grouped by family name, helping you to navigate and find fonts quickly and easily. Plus, you can change the size of the font names in the Font list box to suit your needs.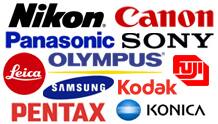 Support for digital cameras
Import RAW camera files directly from your digital camera thanks to extensive RAW file support. You can also import RAW files from a variety of new camera models, including the latest from Canon, Fuji Olympus and Samsung. See all the supported camera types.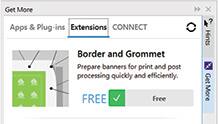 Get More Docker
You can expand your collection of creative tools by downloading applications, plug-ins, and extensions directly from Corel PHOTO-PAINT 2017. You can purchase AfterShot Pro for the ultimate RAW workflow or experience Corel ParticleShop for amazing bitmap effects and more.
---
Top rated user features in Corel PHOTO-PAINT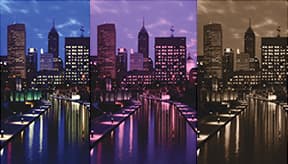 Special effects
Apply several camera effects to adjust the color and tone of your photos. Effects include Bokeh blur, Colorize, Sepia toning and Time Machine, which allow you to recreate popular photographic styles from the past with seven unique visual and historic styles which range from 1839 to the 1960s.

Liquid tools
Four pressure-sensitive Liquid tools— Smear, Attract, Repel, and Twirl— offer fresh creative options for retouching photos. You can use these tools and reshape specific image areas to produce unique artistic effects. Each tool responds to the pressure of your digital pen or stylus, and provides options that help you control the intensity of the effect.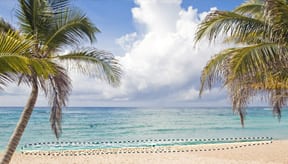 Unsharp Mask lens
The Unsharp Mask lens lets you sharpen your photos without having to apply the effect directly to an object. This lens increases the contrast of adjacent pixels while preserving both high-frequency details, such as edges, and low-frequency details, such as large structures, gradients and background colors.

Interactive brushstroke settings
Apply transparency and feathering on the fly using the modifier keys. Now you can adjust the transparency and feathering of brushstrokes as you paint with any of the brush tools, including the Eraser, Red-eye removal, Clone, Touch-up brush, Paint, Effect, Image Sprayer, Undo brush, and Replace color brush tools.

Setting up guidelines
The Guidelines docker makes it easier to add, manage and modify guidelines. You can now position guidelines with precision, change their line style and color, have objects and editable areas snap to them, and lock them into place to avoid unwanted changes. For additional functionality, you can now add angled guidelines and rotate existing guidelines.

Alignment Guides
Alignment guides are temporary guidelines that help you align objects as you create, resize, or move them in relation to other nearby objects. The Alignment Guides docker lets you view, set up, and modify alignment guides. In addition, you can now use margin alignment guides that give you the ability to inset and offset an object relative to another object.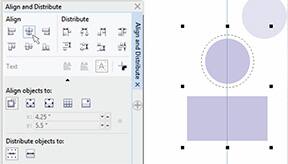 Align and Distribute docker
Access all the key alignment and distribution controls from one convenient location using the Align and Distribute docker. Replacing the original Align and Distribute dialog box, this docker stays open and doesn't hide your images while you're working. You can also instantly view the effect of changes as you modify the options in the docker.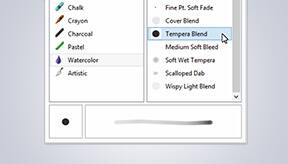 Brush Selector menu
Find the right brush for your project fast using the Brush Selector. This convenient drop-down combines all brush categories and brush types in one location, plus it stores the settings for the last five brushes you've used.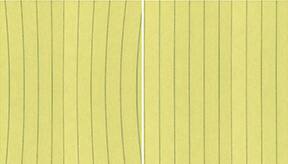 Correct lens distortion
The Correct lens distortion slider helps you preview and adjust your image to quickly and easily remove pincushion and barrel distortions. Pincushion distortions make photos appear pinched in from the center, while barrel distortions make photos appear pushed out from the center.

Smart Carver
Easily remove unwanted areas from a photo and simultaneously adjust the photo's aspect ratio with Smart Carver. The versatile Object Removal brush lets you paint an area you want to keep or remove to quickly remove unwanted elements from your photo.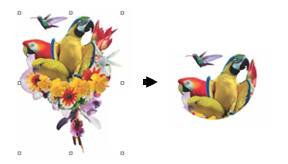 Advanced Clip Mask options
Adjust the properties of a group of objects in a way that is non-destructive to the individual objects within the group by creating a clip mask. For example, you can adjust transparency levels for the whole group without altering the pixels of the individual objects.

Native 64-bit support
Edit photos faster with native 64-bit support. You'll be able to open and edit more large files at once, see results in less time, work without hiccups while running multiple applications and process larger files and images faster than ever.

Tone Curve adjustments
Adjust your images with more precision with an integrated histogram that provides real-time feedback as you make adjustments. The Eyedropper lets you pinpoint specific color locations on the tone curve of your image. You can also select, add, or delete nodes along the tone curve.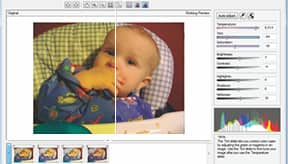 Image Adjustment Lab
Quickly correct common color balance and tone problems from a single dialog box.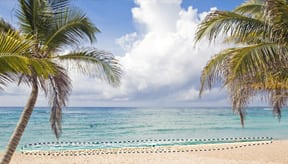 Transparency
Create interesting effects by applying transparency to an object so that all objects beneath it are partially visible.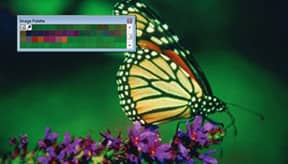 Document/Image palettes
Corel PHOTO-PAINT automatically creates a custom color palette for each design project, which is saved with the file so you can access it quickly whenever you open your project.
Objects docker
Work faster and smarter by making your most commonly used features more accessible. The Objects docker exposes many of the most commonly used operations. Use nested grouping when organizing a complex image, to make transitioning between multiple applications easier. Adjust thumbnails of objects and masks at any time
Export for Web dialog box
Prepare files for the web quickly with this dialog box, which offers a single access point for common export controls. This dialog box lets you:
Compare the results of various filter settings before you commit to an output format, making it easier to achieve optimal results
Specify object transparencies and matting colors for anti-aliased edges—all with real-time preview
Select and edit color palettes for indexed formats
Color Proof Settings
Prepare your work for output more efficiently using the color proof settings. This docker helps you save time by providing a list of output devices that you can choose from to preview the output. When seeking approval from clients, you can easily export soft proofs and print hard proofs.
Vibrance, Grayscale and filter effects
Experiment with exciting effects to enhance your photos. Use the Vibrance effect to add richness to colors in your photos with low saturation. Try the Grayscale effect to remove the saturation of an object, layer or region of a photo. Use the Photo Filter effect to simulate the look of different camera lens filters.
Controls for straightening images
Quickly and easily straighten images that were scanned or photographed at an angle. The interactive controls, a grid with vertical and horizontal guidelines, and an integrated histogram that provides results in real time, make it easier than ever to straighten crooked images. You can also choose to have images automatically cropped.