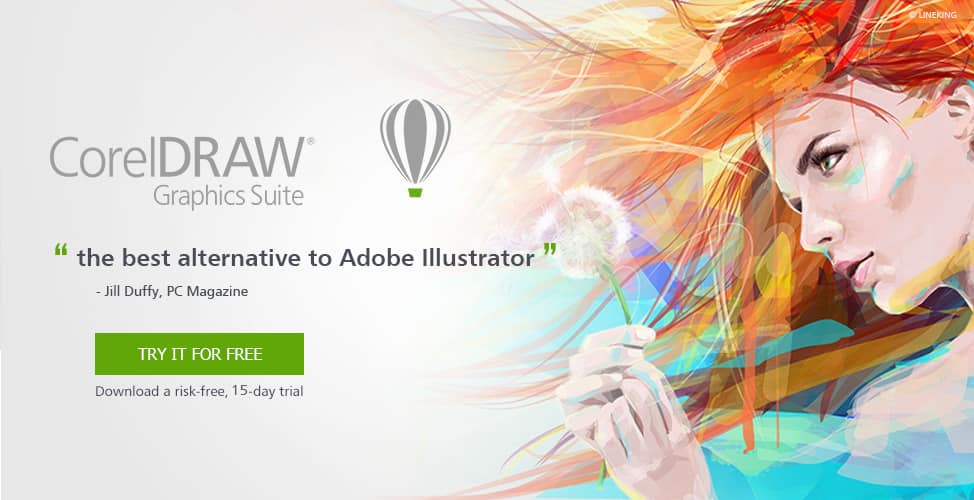 Not ready to make the move to a subscription-only system?
Discover the Adobe alternative that puts you in control of how you buy and use your software
If you want to own your apps forever, and be able to edit and repurpose your designs at any time, Corel is here to give you a choice. CorelDRAW® Graphics Suite is the Adobe alternative, offering all of the design tools, functionality and content you want from a professional graphic design suite—without sacrificing quality or performance.
Corel makes it easy to switch with comprehensive learning tools, market-leading file compatibility and fully customizable workspaces. You can even set up your toolbox and property bars to look like Adobe Photoshop or Illustrator. Plus, Corel gives you multiple options when it comes to purchasing your software.
Benefits of switching to CorelDRAW Graphics Suite
Professional graphic design and photo-editing tools

Get all the tools you're already using (and more) with applications and plugins that cover everything from vector illustration, page layout and bitmap-to-vector tracing, to photo editing and website design.

View our features list

Flexibility

Choose how to buy and use your software—in a box, by download or by subscription.


Smooth transition

Keep your current workflow by setting up your workspace to look like Adobe Photoshop or Illustrator. Stay productive and up-to-date with comprehensive learning resources, context-sensitive hints, video tips, and market-leading file compatibility with more than 100 formats.



Affordability

Enjoy all the functionality of a professional graphics suite, plus valuable extras, including thousands of high-quality images, fonts, templates, clipart and fills, at an affordable price.
Easily open your Adobe files in CorelDRAW
No matter what kind of file format you're working with, we've got you covered. CorelDRAW Graphics Suite supports more than 100 file formats, including the latest AI, PSD, PDF, JPG, PNG, SVG, DWG, DXF, EPS, TIFF, DOCX and PPT formats, plus it includes extensive RAW file support for over 300 types of cameras.

Superior bitmap-to-vector tracing
Don't waste precious time converting bitmap images into vectors. Powerful improvements to the built-in Corel® PowerTRACE® engine provide the best tracing results yet and turn the most demanding bitmap images into high-quality vector objects.


"CorelDRAW Graphics Suite remains a viable option to those who are looking for the best alternative to Adobe Illustrator. It exports to all the major Adobe file formats, supports high-resolution multi-monitor setups, and offers plentiful features."

"The tools for customizing your workspaces are wonderful. There's even a preset option for mimicking the Adobe Illustrator interface for designers who are most familiar with that environment."
- Jill Duffy, PCMAG
See how easy it is to get started
Learn how to easily move from your Adobe application to CorelDRAW Graphics Suite. You will find many tools similar to those that you are accustomed to working with, and you can even learn how to quickly set up your workspace to look and feel like Adobe Illustrator or Photoshop.
CorelDRAW for Illustrator and Photoshop users

If you're an Adobe user who is making the switch to CorelDRAW and/or Corel® PHOTO-PAINT™, this tutorial will help you get familiar with terminology, tools and commands to help make your transition smooth.

Working with Photoshop files in CorelDRAW

This tutorial covers some of the most common tasks facing an Adobe Photoshop user who is transitioning to Corel PHOTO-PAINT. Learn where to find familiar tools and what they're called so you can continue working without any real disruption to your workflow.

CorelDRAW Graphics Suite for Adobe users

See how to set up your workspace to look and feel like an Adobe app, find common menu commands and get a direct side-by-side comparison of key terminology to quickly get up to speed with CorelDRAW drawing and design tools.

7 Essential Learning Tools to Get You Started

Find out about seven learning tools that will inspire you and get you started: Welcome screen, Quick Start Guide, Videos, Hints docker, Product Help, tutorials from the experts, and the CorelDRAW community of users.
Experience CorelDRAW Graphics Suite,
the Adobe alternative that lets you design your way.