Automotive & Machinery
CorelDRAW® Technical Suite is a staple in many well-established enterprises in the automotive and machinery sectors. Using this suite, you can transform complex designs and schematics into easily interpreted graphics or illustrations suitable for reuse company-wide. These high-quality and accurate graphics enable strong communication over a product lifecycle, namely design and development, marketing, sales force training, technical support and customer service. With its unique range of features and strong bias for productivity, CorelDRAW Technical Suite can help enterprises overcome many pain points that arise when designing technical documentation.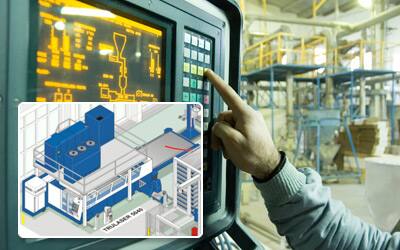 Leverage existing data or designs
While some illustration components have to be created from scratch, technical illustrators often repurpose or leverage existing data from engineering design models. With support for CAD drawings (AutoCAD .DWG and .DXF), legacy files and images, and more, CorelDRAW Technical Suite ensures existing data can be delivered or repurposed efficiently and easily.
For example, speed up the time-consuming task of scanning and converting legacy hard copy drawings, such as blueprints, with PowerTRACE™, the fast, accurate bitmap-to-vector conversion tool included in the suite. Or, eliminate the hassle of receiving 3D design files you can't open from the engineering department and suppliers. CorelDRAW Technical Suite supports a wide range of industry-standard file formats, so you enjoy a seamless exchange of information.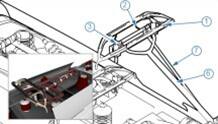 File compatibility
Create, share and deliver standardized technical documentation with support for a wide variety of technical communication assets and file formats, including DOCX, XLS, PSD, AI, PDF/A (including editing), TIFF and Camera RAW from a large number of D-SLR models. Easily access 2D CAD formats, including AutoCAD .DXF and .DWG.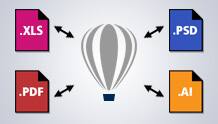 Optional support for 3D CAD
Open and work with the latest 3D CAD file formats using XVL Studio 3D CAD (available as an optional add-on).
Revolutionize your technical illustration process with XVL Studio 3D CAD and expand far beyond the standard 3D file support. With this add-on, you can directly open and work with native files from manufacturing design systems, such as CATIA, Autodesk Inventor, NX, PTC Creo Parametric (formerly Pro/Engineer), SolidWorks and others, or 3D CAD exchange formats, including JT, IGES, STEP and Parasolid.
Learn more about XVL Studio 3D CAD Corel Edition
Streamline your technical illustration workflow
Create clear and meaningful technical illustrations from 3D designs using isometric views, disassembly (exploded) views and cross-sections. You can output 3D-sourced illustrations directly to Corel DESIGNER for further editing. In addition, XVL Studio 3D CAD (available as an optional add-on) lets you incorporate 3D CAD design changes into technical documentation at any time, so you can start working earlier in the production cycle, remove bottlenecks in the production process and ultimately shorten time-to-market.
Learn more about XVL Studio 3D CAD Corel Edition
No matter what graphical assets you need to access, CONNECT™ is available to help you quickly find them on your computer, network or external storage device, or online sources. This full-screen browser is also available as a docker within the authoring applications, Corel DESIGNER, CorelDRAW and Corel PHOTO-PAINT® and will allow you to organize content by type or project in shared trays for maximum efficiency.
Professional graphic design tools
CorelDRAW Technical Suite blends the technical focus and precision drawing and diagramming tools of Corel DESIGNER with the creative graphic functionality and design tools of CorelDRAW. This offers technical communication professionals everything they need to create clearly understandable and adoptable illustrations with standard illustration techniques.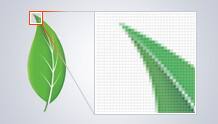 Isometric drawing features
Specialized precision features help increase productivity without sacrificing accuracy, such as Corel DESIGNER's projected drawing modes. Actively draw on the projected plane to create isometric or other parallel projected illustrations for assembly and maintenance instructions. The objects or graphics are clear and easily readable and do not require 3D constructions, distortions and rotations, or intricate 2D transformations.
Dynamic callouts and hotspots
Callouts are essential when you need to convey and track crucial information in your technical drawings, such as part numbers, dimensions, product information and more. CorelDRAW Technical Suite lets you easily create and modify callouts and dimension lines. With dynamic callouts, updating or modifying callout text is effortless because changes to the source object properties are automatically reflected in the object's callout text.
Apply hotspots to callouts, to make them interactive. Interactive drawings can be published to online formats (CGM, SVG, HTML, and PDF) for Illustrated Parts Catalogs (IPC) and other interactive technical communications.
Efficient illustration and precision tools
To a technical illustrator, precision and clarity are everything. Approximation is not an option as all objects must be perfectly aligned and clearly understandable. With your hectic schedule, you cannot afford to double-check object positioning by zooming in and out. Geared for precision, CorelDRAW Technical Suite delivers gravity snapping to precise coordinates, dynamic and alignment guides and object coordinate drawing—features that help you draw and position objects accurately the first time. Dedicated tools for drawing threads and wells and the 2-point-line tool will help you easily add missing detail to drawings.
Automation and project customization or requirements
For many technical illustrators, repetitive tasks, such as hotspotting, creating parts lists and changing part numbers, are a fact of life with significant encroachments on time. By including Microsoft Visual Studio Tools for Applications (VSTA) and Visual Basic for Applications (VBA), CorelDRAW Technical Suite lets you automate repetitive tasks as well as streamline your workflow. Also, with the ability to fully customize the user interface, you can automate various processes and tailor the Corel DESIGNER technical illustration application to suit your particular workflow.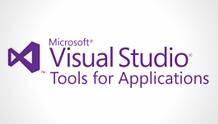 Compatible with a broad range of file formats
Compliance with company and industry standards is one of the key market drivers when it comes to designing technical documentation in multiple formats, including print, online for desktop/laptop display or publication to mobile devices. Preflight options for print, PDF and SVG output help you resolve potential problems and reduce cost by eliminating bottlenecks. Encapsulated Postscript (EPS) support ensures accurate onscreen color proofing and excellent printed results on various devices.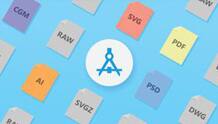 Industry-standard publishing and system integration options
CorelDRAW Technical Suite supports PDF output for online, print and archiving as ISO standard PDF/A and also to interactive 3D PDF. With the integrated XVL Studio 3D CAD, you can also output 3D models for online and mobile view, making it easy to share 3D models with colleagues and clients, using the highly compressed XVL format. Enhanced industry standards compliance means you can deliver standardized technical documentation in leading formats, including WebCGM 2.x, S1000D, SVG and more.
Support for Microsoft VSTA lets you create custom connections to Content Management Systems (CMS), Product Lifecycle Management (PLM) and Product Data Management (PDM) Systems to support versioning, preview creation and more.
Translation Memory System (TMS) support
Reach a worldwide audience with a new option that allows you to send text content from your graphics file in Corel DESIGNER to Translation Memory Systems (TMS) using XLIFF standard, and receive translated content from TMS. The translation results can then be imported into the existing document to create a new file for the specific language. With illustrations instantly available in multiple languages, companies can satisfy their global technical documentation needs.