When the left half has the desired shape, Select the Pick tool (Toolbox > Pick tool), and holding down the Ctrl-key, click on center boundary handle (indicated by the blue circle below). Then drag the mouse over to the right side still holding ,Control key. Release mouse right-clicking at the same time to duplicate the figure (shown here in

green

),which is now perfectly aligned with the left half (shown in

red

).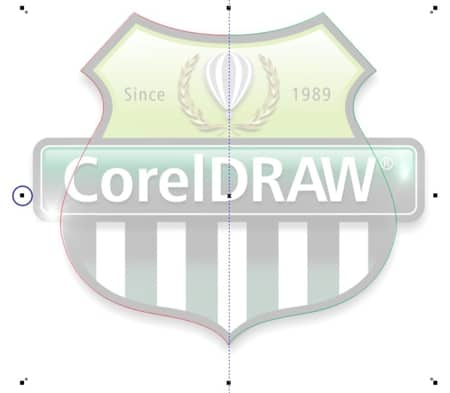 Another method you can use (if you find releasing the mouse and right-clicking at the same time a bit difficult), is to select the left-side > hit the + key on your numeric keyboard to create a copy > then drag the copy over while holding the CTRL-key.
Option to mirror:
Finally, you can also use the mirror feature to flip a copy over to the other side. Select the figure, hit the + key on the numeric keyboard and click on Mirror horizontally icon on the Property bar. Drag the duplicated image across, snapping to the guideline, and align both halves. When dragging, hold down the CTRL-key so that the movement is restricted horizontally.