PowerClip™ vs. the Crop tool in CorelDRAW
This tip has been written for CorelDRAW® Graphics Suite X3. While similar features might be available in previous releases the tip will be fully applicable to CorelDRAW Graphics Suite X3 and newer versions only.
CorelDRAW® gives you two ways to crop vector objects or bitmap images. You can quickly remove unwanted areas in objects and imported graphics by using the Crop tool. You can also place vector objects and bitmaps, such as photos, inside other objects or containers by using the PowerClip™ feature. The object placed inside the container takes the shape of the container.
Using the Crop tool
When cropping objects, you define a rectangular area (cropping area) that you want to keep. Object portions outside the cropping area are removed. You can specify the exact position and size of the cropping area, and you can rotate and resize it. You can also remove the cropping area.
To crop objects by using the Crop tool
Select the objects that you want to crop.

If no objects on the drawing page are selected, all objects are cropped.


Open the Crop tool flyout , and click the Crop tool .


Drag to define a cropping area.

To rotate the cropping area, click in the cropping area, and move a corner rotation handle .


Double-click inside the cropping area.
The Crop tool lets you crop rectangular areas.
Using PowerClip™
A container in CorelDRAW can be any object — for example, artistic text or a rectangle. When you place an object into a container that is larger than the container, the object, called the content, is cropped to fit the form of the container. This creates a PowerClip object.
To create a PowerClip™ object
Select an object.
Click Effects > PowerClip > Place inside container.
Click the object you want to use as the container.
Artistic text and a bitmap before becoming a PowerClip object.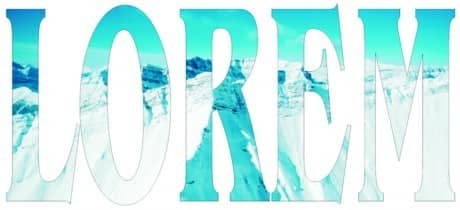 In the PowerClip object, the artistic text is the container, and the bitmap forms the contents. The bitmap is shaped to the letters of the artistic text.