Find the right tools to complement your 3D printing projects
Be a part of the technological revolution of 3D printing! This incredible new trend for businesses and creative hobbyists is changing the way we think about and implement design. With the advent of 3D printing technology, design projects have unlimited potential and output possibilities. It's a natural extension of your current business or industry.
The process of 3D printing is evolving into mainstream technology. Corel currently offers you three robust software solutions to help you achieve your 3D printing goals by providing complementary tools so you can be a part of this revolutionary time in traditional design.
"With CorelDRAW, I have the varied and efficient tool set I need to creatively sketch my ideas in 2D, edit my design, and add the finishing touches. From the very start of the project to the end, CorelDRAW is an ideal companion to 3D printing projects."
–Steve Bolt, User Experience Designer at Corel and 3D printing enthusiast
Explore the step-by-step process to achieve 3D results
The art of modern 3D printing is a process involving several basic steps to achieve your end result. See how these relevant Corel products can provide the specific tools you need to help you every step of the way:
Complete and cost-effective technical communication software

Learn more
---
---
---
Step #1: Create a 2D design
Learning the process of 3D printing takes some basic design knowledge and the right tools to set you on the path to success. The best place to start is with a 2D sketch that is easier, faster and more intuitive than attempting to draw a 3D design from scratch. You can use CorelDRAW® to capture your initial concepts as a mock-up to see how the design will look or sketch on top of an image, showing how all the elements will come together. By using the basics of 2D vector graphics and bitmap image editing, you'll have the foundation for any 3D printing project.
Solution: CorelDRAW® Graphics Suite
With this diverse design program, you'll find all of the necessary design tools and features to lay the foundation for your 3D printing goals.
Create mockups as line drawings
Originate sketches
Incorporate color drafting
Use tracing tools to design with precision
Learn more
Step #2: Make your 2D design a reality in 3D
Once you've created your design, you can export your CorelDRAW 2D sketch to .DWG. Next, you can open the CAD file in a 3D design application and transform the 2D sketch to 3D using precise design tools. Once your 3D project is completed, you can then export it to print on a 3D printer, such as those made by Stratasys, Makerbot or 3DSystems, or send it to a 3D printing output service such as Shapeways or Sculpteo.
Solution: CorelCAD™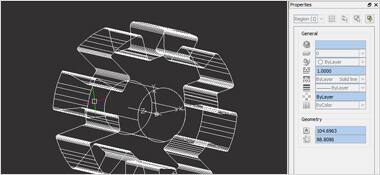 Extrude and revolve to create basic 3D solids from 2D shapes
Create and add new 3D primitives from scratch, such as a box, cylinder, sphere, cone, torus and wedge
Connect, subtract and intersect to join or cut shapes for more advanced geometries
Sweep and loft for creative and organic 3D structures
Export the finished 3D solid model to .STL – the 3D printers' primary file format
Learn more
Step #3: Fine-tune your design with finishing touches
Enhance your completed 3D print project by adding a colored surface – which can be painted or vinyl glued. You can create a 2D mock-up that represents what the final painted surface will look like once completed. Use packaging design and layout tools to create the image as a flat surface, then the image can be printed to vinyl and cut. From here, the image is now ready to be applied to the 3D-printed project.
Solution: CorelDRAW® Technical Suite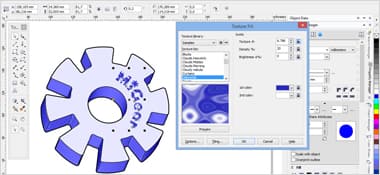 Open your 3D .STL file in Lattice3D Studio in CorelDRAW Technical Suite to achieve the desired views, such as the front, sides, top or bottom. Send your project to Corel DESIGNER as a vector drawing to receive editable vector shapes, including contours for the vinyl cutting.
Open 3D files, such as .STL or .DWG, in Lattice3D Studio visualization application
Send 3D views to Corel DESIGNER® for graphics editing
Design colored surfaces with illustration and layout tools
Edit and retouch images with Corel PHOTO-PAINT®
Enhance your project with digital painting
Learn more
Step #4: Share or sell your 3D project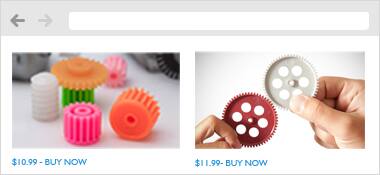 Communicate news about your latest 3D projects or visually promote your 3D products with illustrated flyers, graphics, brochures, catalogs and web pages. Gain additional exposure for your 3D projects by joining an online 3D printing community, such as Shapeways or Sculpteo, that provides a creative forum to share ideas, gain design inspiration and sell your custom 3D creations.
Solution: CorelDRAW® Technical Suite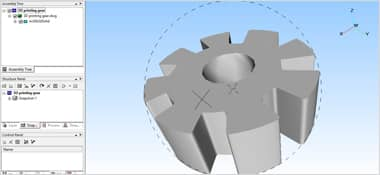 Open in 3D to generate views as vector drawings for presentation graphics in CorelDRAW
Create photo-realistic renderings of the 3D model as bitmap images for retouching
Use Corel PHOTO-PAINT® for professional bitmap editing
Create multi-page layouts in CorelDRAW or Corel DESIGNER
Create your product's web page with Corel® Website Creator™
Learn more
Step #5: Design specific how-to instructions
Create user guides or assembly instructions to make your 3D printing projects work! Now that you've created the basic framework for your 3D project, you'll need to provide some basic how-to information for the end-user or printer.
Solution: CorelDRAW® Technical Suite
Benefit from sophisticated technical illustration tools and industry-leading file format support for a clearly understandable visual technical documentation.
Load 3D files into Lattice3D Studio to specify the view
Use 3D authoring tools to create disassembly views
Send isometric views as vector graphics to Corel DESIGNER for technical illustration
Add callouts, dimensioning, text and other important elements
Publish your documentation to PDF or HTML for sharing with your clients
Learn more
---
Now that you've seen an overview of the 3D printing process, you can learn more about CorelDRAW Technical Suite for all your 3D printing project needs. It's a powerful software solution that can give you the diverse tools you need to complement a 3D project—from initial sketches to the final presentation, marketing, documentation or selling of your 3D creations.