Make a Facebook Cover Photo
How To Make a Facebook Cover Photo
A Facebook cover image is a photo in a horizontal orientation and should be uploaded at a size of 828 X 315 pixels.
As almost every individual and a large number of companies have a Facebook presence, it's important to have a cover image that is polished and looks professional
1.

Set the page size

Let's start by creating the document. From the New Document dialog box (File > New), in the Name: field type the name of the file as 'SugarSmiles_Header'. Next, from the Preset destination drop-down select Web. You will notice that this changed the unit of measure to pixels and the Rendering resolution to 96 dpi. In the Width field enter 828 and in the Height field type 315 and click OK.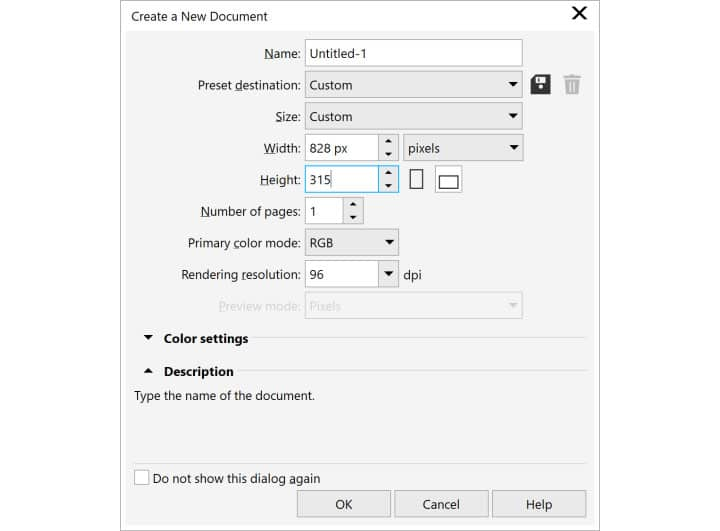 2.

Adding Graphic elements

Import the image onto the page. A tip here, Double-click the Rectangle tool. This will add a page frame and you can then Powerclip the image into it. When selecting an image, remember that at Facebook cover should have an area where your profile image appears, on the left. Create a 160 x 160 px square that is 23 px from the left. This is where the profile image will be. Remember to keep this area free from important information. Next, add any text (try to keep it limited if at all possible). Now it is time to export your Facebook cover.
3.

Export for web

To export our cover, go to File > Export For > Web. This will open the Export for Web dialog box where you can make such choices as gif, jpg, or png. Under Format, select PNG and under Color mode select RGB Color (24-bit). Under Transformations, ensure that the image is 828 x 315 and a resolution of 96dpi.