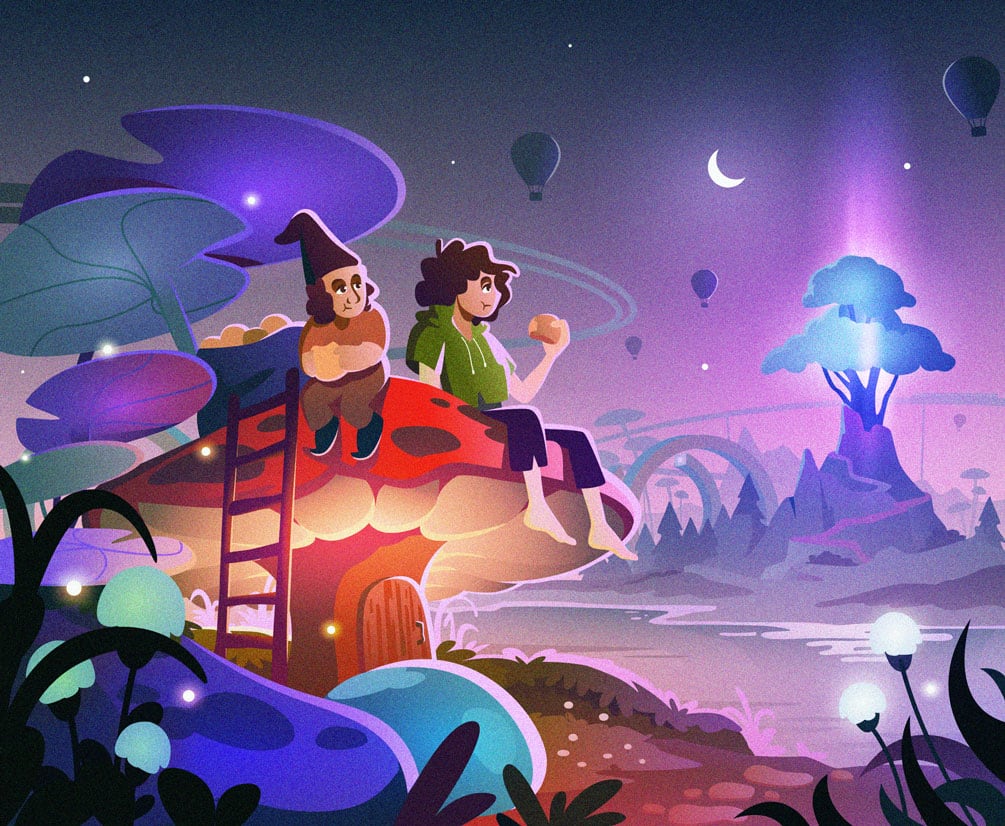 Working with Layers
Vector design is ideal for all types of digital art, from simple, abstract work to complex vector drawings and paintings. When you're working on more intricate, detailed pieces, layers are a great graphic design tool to help with organization, grouping, and applying edits and effects.
Layers allow you to modify individual elements within your image without changing the other elements or objects. Most major vector design programs have some sort of layer feature or option.
What are layers in graphic design?
In graphic design software, layers are different levels on which you can place objects like vector lines, shapes, and other elements. They are used to separate parts of an image or drawing, allowing you to edit and manipulate individual elements of your artwork separately.
Layers can also help combine two or more images while keeping the actual components and elements of those images separate. Because vector designs are object-based—each line, shape, or other elements in a vector image is its own separate element—you don't necessarily need to use layers to separate or combine elements. However, a few key benefits and features of layers make them worth using in your vector design process.
Layers can be stacked, merged, hidden, locked, masked, and rearranged. In some formats, layers are referred to by other names. For example, in an SVG, layers are called "groups." You may also see layers referred to as shape layers.
What are layer masks?
Layers allow you to keep individual elements somewhat separate within a particular image file. Layer masking will enable you to block specific parts of your image without erasing or deleting them. This is an easy, non-destructive way to hide part of an image without permanently removing it.
Layer masks are great when you're creating composite images and collages. They're also ideal for removing or concealing objects and focusing your edits on only certain areas rather than the entire layer.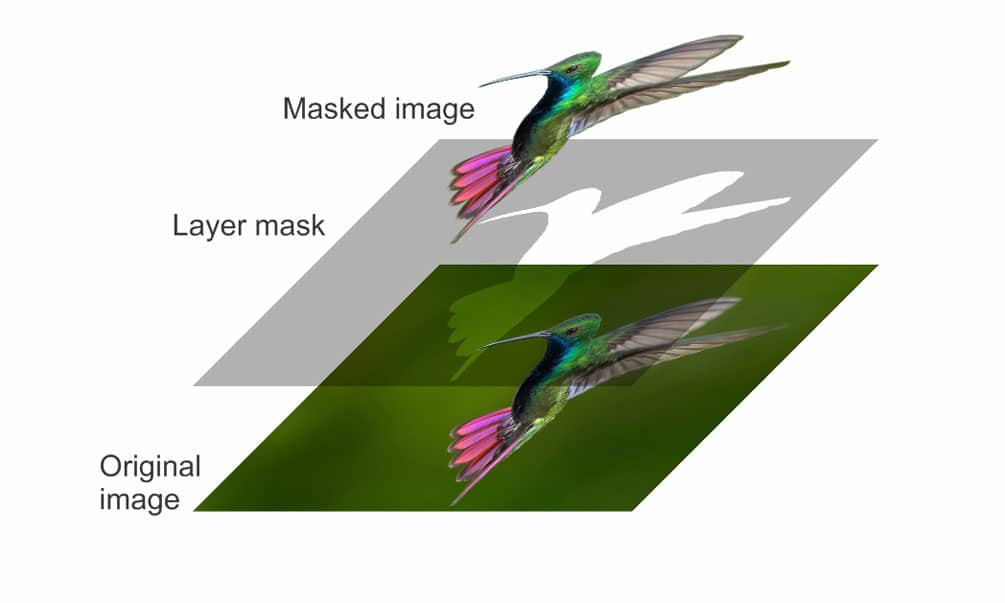 Why use layers in a design project?
There are many reasons you might want to use layers in your design projects, including:
Adding visual complexity to an image
Layers allow you to combine multiple elements from different source images, adding visual complexity to your art. You can apply filters and effects—such as drop shadows or warp effects—to one or more layers, adding even more texture and interest. Without the use of layers, creating depth and keeping track of all the levels of elements in your design can be challenging.
Creating a visual hierarchy
You can more easily create depth and a visual hierarchy within your designs with layers. When you separate elements into different layers, you can easily rearrange those layers to change which elements appear in your image's foreground and which become part of the background. Take it a step further, and add effects like drop shadows to give your image more contrast and depth.
Modifying elements separately
With layers, you can modify image elements separately. While this is an inherent benefit of object-based vector image formats, using layers provides an additional level of organization and control. When you have different groups of elements on separate layers, it's easy to lock or hide layers to isolate certain aspects of your image.
Editing background elements
When working on a complex vector design made of many different vector objects, it's hard to work on the background objects if they're buried under other elements. With layers, you can hide foreground layers and work on background objects without dragging them to the top of your image.
Applying effects nondestructively
When you apply an effect to an image, you can do so directly or with a separate layer. Applying an effect to a separate layer can reverse the change at any time. Similarly, you can apply layer masks, which you can fine-tune or remove later. Without layers and layer masks, you'd be directly editing and deleting objects and pieces of your image, making it harder to fix later.
Applying an effect across pages
Using a master layer allows you to apply an element, edit, or effect across multiple pages of a document. This saves you the time it might take to manually duplicate something, such as a header or footer, onto multiple pages.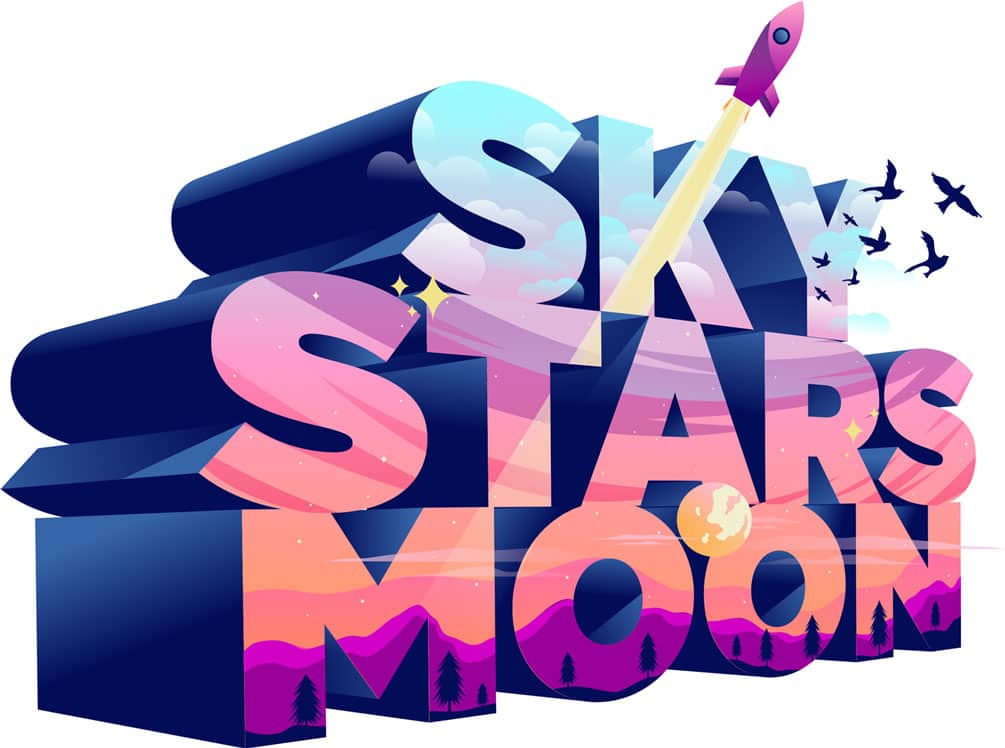 What layer & masking tools can I use with CorelDRAW?
In CorelDRAW, layers are created, organized, and edited through the Objects docker/inspector. If it's not already up, you can open the Objects docker/inspector by going to Window>Dockers>Objects on Windows, and Window>Inspectors>Objects on Mac. CorelDRAW has robust tools and options for layers, master layers, and layer masks. Watch a demonstration of working with layers in CorelDRAW.
If you need to export your vector file to a raster image format, all layers are automatically compressed—or merged—into a single layer.
The Bottom Line on Working with Layers
Understanding layer design, layer masks, and other features available within CorelDRAW is essential if you want to become an accomplished graphic designer or digital artist. When you learn how to manage layers and apply layer masks and effects effectively, you'll be able to take your design work to the next level.
In addition to learning how to place and manipulate image objects on different layers, you'll also need to understand transforming individual image objects. Check out the next article in this series to learn more tips and techniques for transforming vector objects.