Vectorization: Convert Images from Raster to Vector
---
What is the definition of a raster or bitmap image?
It is layers composed of individual pixels which can be seen as squares of color when magnified, plus raster layers let you display subtle changes in tones and colors.
What is the definition of a vector image?
Vector objects, such as lines and shapes, vector text or vector groups, are composed of geometric characteristic and can easily be edited.
Here's an example of the visual differences between vector and raster (bitmap) art:
In the busy world of graphic design, images and files are edited, shared and outsourced to vendors on a daily basis. It would be ideal if everyone spoke the same design language, but that is not always the case. Not all files are created equal. Vector files can be created using a graphic design software, such as CorelDRAW, and raster files are created and manipulated in other types of software programs. So how do you get the files to work together?
Converting various file types to vector
Thankfully, the vectorization process is quick and easy with the built-in technology of the Corel® PowerTRACE® engine. It provides the best tracing results and turns the most demanding bitmap images into high-quality vector objects.
With a few simple steps, you will be able to convert an existing raster or bitmap file, such as a .JPG, .BMP or .PNG file, into a vector file.
Here's a comparison of raster or bitmap file on the left, and a vector image on the right.
In this step-by-step tutorial, you will learn to vectorize an image using CorelDRAW's graphics software.
http://learn.corel.com/graphics/tutorials/view/378/Convert-Images-to-Vector-Files-Quickly-And-Easily-with-PowerTRACE
Follow a few simple steps for tracing a vector image using CorelDRAW
In addition to the conversion process, you can also trace a vector image. Tracing is essentially another way to take a raster or bitmap image and converting it into a vector graphic. This helpful webinar will cover these important tracing topics:
PowerTRACE settings
How to avoid tracing pitfalls
Image readiness and quality
Preparing images for tracing
Reducing nodes in the final trace
Font recognition
Simplifying images prior to tracing
Color conversion
Step 1: choose your image (jpg, bmp, png, etc.)
Step 2: isolate the section you want to trace
Step 3: begin the tracing process with Corel PowerTRACE
Step 4: delete the seagull vector image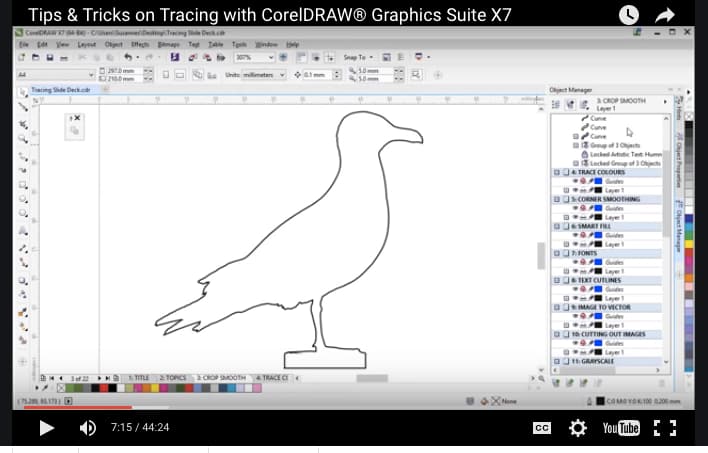 Step 5: smooth the rough edges with the Smooth tool
Step 6: now the vector outline is smooth
Watch the complete CorelDRAW tracing webinar with additional tracing projects:
http://learn.corel.com/graphics/tutorials/view/487/Webinar%3A-Tracing-with-CorelDRAW
Explore all of CorelDRAW Graphics Suite for vector images and more
See the expansive list of tools in CorelDRAW's Graphic Design Software to help with design, illustration, photo editing and the simple process of converting raster images into vector images.