The Complete Guide to Raster vs Vector
---
Raster vs vector is a conversation that a designer will encounter again and again. For the most part, there are two main types of digital image files a designer will work with: raster, (or bitmap), and vector. During your designing, you might work only with raster images, only with vector images, or a combination of the two.
---
Need to Download CorelDRAW?
Download a Free 15-Day Trial Now!
---
A raster image is an image that is built using pixels. Any image taken with a digital camera or scanned into a computer is constructed using pixels. They use an abundance of different shades and colors of pixels to piece together a complete complex image, and the dimensions are measured using pixels. Paintings and images created in software such as PaintShop Pro result in raster images. The use of pixels to gradually shade images creates the appearance of a brush dipped in paint.
A vector image, however, is built using mathematical formula - not pixels. The file dictates several points and creates a line between them to form a specific shape. These are usually geometric shapes and makeup images that have bold lines and strong colors, like logos and abstract artwork.
An example of vector software is CorelDRAW. Generally, the images created in vector images are much more simplistic than raster images or at least have a bolder, more stylistic appearance.
What are the advantages of raster images?
So when would you use a raster image? The advantage of raster images is the complexity and level of detail. The use of pixels means there is an endless possibility of shades and colors to play with. Capturing images on a camera or creating a paint effect in software like PaintShop Pro involves a lot of shadows, tones, and fine detail that wouldn't be possible to capture as a vector.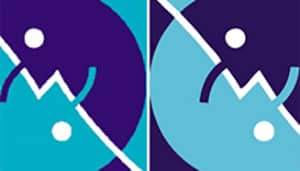 Continuous tones and blends of color mean that raster images can be stunning realistic landscapes like digital photographs that can be printed and displayed, or artistic impressions created from scratch. However, because the image size is measured in pixels, a raster image suffers from loss of quality when it is scaled up. So you wouldn't be able to increase the size of a photograph to print on a canvas without the image appearing blurry and pixellated.
---
Need to Download CorelDRAW?
Download a Free 15-Day Trial Now!
---
What are the advantages of vector images?
A vector image, on the other hand, can be scaled endlessly. It does not use pixels to measure the size, so in theory, it can be blown up to thousands of times the size of the display you are looking at it on, without the image losing any quality at all. This makes it perfect for images that need to be scaled for print advertisements, billboards, and vehicle wraps.
However, because it is not built from pixels then creating gradual changes of tone, color and shading is much more difficult. The result is simple, strong colors and outlines, so if you are looking to create a detailed image that reflects reality then a vector image may not be for you.